Principal Investigator
Dr Taylor Chapple (he/him)
Research
Over the past 15 years, Taylor has been studying sharks and other large marine predators around the world focused on their movements, behaviors and population dynamics. From South Africa to Australia to California, using state of the art technology, he electronically tags animals to gain insights into their lives when we aren't there to observe them. At OSU, Taylor studies the sharks off our coasts and works with local communities to better understand sharks in Oregon. Relatively little is known about how White, Salmon and Sevengill sharks affect our coastal ecosystems, but Taylor and the BFL plan to change that.
Bio
Taylor grew up in the great state of Ohio on the shores of Lake Erie. He received his BA from Boston University in biology with a concentration in marine science in 2001. Taylor then worked designing experimental fishing nets to limit bycatch of New England and taught marine science aboard a sailboat in the Puget Sound. In 2002 he first began working with sharks off the coasts of Florida and throughout the Gulf of Mexico. Taylor received his Ph.D in 2009 from the University of California, Davis, developing ways to estimate and assess shark species with little data. At UCD his work focused on the Common Thresher shark and the White shark. In 2010 Taylor began an appointment with the Max Planck Institute in Germany, studying the energetics and behavior of highly nomadic species. He also studied how sharks navigate by developing a magnetic tag, which can manipulate the ambient magnetic field around a shark. In 2012 Taylor began a second post-doctoral appointment with Hopkins Marine Station of Stanford University. At Stanford Taylor worked on a continuing assessment of white sharks as well as their behavior and movements. Taylor started at OSU in 2019 and currently runs the BFL at OSU's Hatfield Marine Science Center.
If Taylor had spare time it would be a miracle, because when he's not out chasing sharks he's chasing his two very energetic kids.
Other:
Research Staff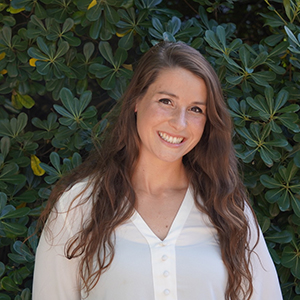 Alexandra G. McInturf, PhD (she/her)
Bio:
Alex McInturf is a CICOES postdoctoral fellow in the Big Fish Lab. Raised in Cincinnati, Ohio, Alex's interest in sharks began when she was very young. She credits her initial fear of sharks and unfamiliarity with the ocean for prompting her exploration to better understand this environment. While in Ohio, she volunteered at the local Newport Aquarium (KY) and read every book she could find on sharks, skates, and rays. She then attended Williams College for her undergraduate education, where she enrolled in the Williams-Mystic Coastal and Ocean Studies program to learn a more interdisciplinary approach to studying the sea. Following graduation, she was an intern with Oceans Research (South Africa) and the Bimini Shark Lab (Bahamas), where she studied white sharks, tiger sharks, hammerhead sharks, and sandtiger sharks. She obtained her PhD in Animal Behavior from the University of California, Davis, for which she examined physiology, behavior, and distribution of basking sharks, sevengill sharks, and salmon. In addition to research, Alex is an avid science communicator, soccer player, cyclist, weight lifter, reader, baker, and dog mom.
Fun facts:
Alex has an English degree from Williams College.
Research interests:
Alex is interested in the movement and behavior of sharks and their relatives, and how these are influenced by biotic (living) and abiotic (non-living) factors in the environment. She uses a combination of methods, including stomach content analysis, biologging, and spatial modeling, to explore these topics in a wide variety of threatened or data deficient species. Her current work in the Big Fish Lab focuses on the diet and habitat use of salmon sharks in Oregon, Washington, and Alaska, and how that affects prey species (like salmon) in this region. She is also exploring the social lives of basking sharks in Ireland.
Other:
Social media: @DrSurfNTurf
Dr Kyle Newton (he/him)
Research
Kyle is a sensory and cognitive ecologist that uses machine vision and learning techniques to understand, monitor, and mitigate the impact that human activities have on the physiology and behavior of marine wildlife. He is particularly interested in how the electromagnetic field (EMF) noise generated by offshore energy facilities impacts the foraging and navigation behavior of electrically and magnetically sensitive species, such as sharks, rays, skates, and decapod crustaceans.
Bio
Kyle was born in the Philippines but grew up in Seattle where he learned to appreciate the value of a drysuit during his scuba certification. He received a BS in Marine Science and biology from the University of Miami then worked for a biotech start up in Seattle. Eventually he moved to Los Angeles and got his MS in biology from California State University Fullerton where he showed that visceral endothermy gives the endothermic mako shark a selective advantage in food processing rates compared to sympatric ectothermic sharks. He went on to receive his PhD in Integrative Biology from Florida Atlantic University where he described the magnetic sense, learning and memory capabilities of the yellow stingray. Recently, he finished a postdoctoral research appointment at Washington University in St Louis, where he used machine learning to model how the lateral line facilitates the rheotaxis behavior of zebrafish as they orient and swim into flowing water. Kyle began a research associate position in the Big Fish Lab at OSU in 2022 and is currently investigating how anthropogenic EMFs impact the behavior, movement, and distribution of electromagnetically sensitive marine fauna.
Kyle enjoys field work such as tagging pelagic and coastal sharks off the coasts of Florida and California, animal husbandry, and wondering how marine life perceives its environment and uses this information to make decisions. When he is not in the lab, Kyle enjoys scuba diving, road trips, and deep conversations with his cat, Walter.
A long time ago in a galaxy far, far away. . . . Kyle was once a freelance photographer.
Graduate Students
Jessica Schulte (she/her)
Email: jessica.schulte@oregonstate.edu
Bio
Jess graduated with honors from the University of Florida in 2013 with a degree in Environmental Science focusing on climate change and other global anthropogenic impacts. She interned in the Florida Museum of Natural History's shark lab, working in the International Shark Attack Files, as well as the US Geological Survey's Benthic Ecology Lab, processing deep sea coral samples for stable isotope analysis. This work led to full-time opportunities in USGS's Invasive Fish lab where she worked across a variety of research including ecophysiology, foraging ecology, and genetics of non-native species in Florida. She then served for 2.5 years in the Peace Corps where she collaborated with communities on coastal resource management and conservation in the Philippines. After returning to the States, she worked at the State Department in Washington DC, handling international climate change programs and diplomacy before starting graduate school in Fisheries Science at Oregon State University.
Jess was awarded the 2021 Oregon Sea Grant Robert E. Malouf Marine Studies Scholarship, the 2021 Marine Studies Initiative Advancement Award, the 2021 and 2023 Mamie L. Markham Endowment Award, and the 2022 McNeil Award.
Research
Jess's research aims to understand fisheries as part of a larger cultural picture in the Pacific Northwest and contribute to critical outreach and engagement with the broader public. Combined with a variety of anthropogenic stressors, fisheries in this region have experienced significant drops in stock, followed by ecosystem effects and repercussions on local economies. Despite their often significant roles in local ecosystems though, large sharks have been conspicuously absent from modeling and management efforts in the region. Using bio-logging, stable isotopes, and stomach content analysis, Jess's research will provide critical insights into the trophic ecology of an abundant apex predator in these marine ecosystems, the Broadnose Sevengill Shark (Notorynchus cepedianus). Her project will determine how this predator maintains Oregon's productive marine ecosystems from a quantitative and cultural lens and inform our management of critical fisheries through top-down interactions. 
Fun Facts:
Jess loves photography, diving, yoga, hiking, and all forms of dogspotting.
Other:
Josh Bowman (he/him)
Email: joshua.bowman at oregonstate.edu
Bio
Josh started with the Big Fish Lab in the graduate certificate program at OSU before transferring to an M.S. program. Josh's fascination with the marine environment stems from his early-life experiences freediving for abalone in along the coast of Northern California. He graduated from California State University Monterey Bay with a B.A. in environmental studies where he studied seafood sourcing and science communication. Josh previously worked in residential construction and decided to apply his multidisciplinary background to pursue his passion for marine ecology and large predatory fish.
Josh was awarded the 2022 Mamie L. Markham Endowment Award.
Research
As a Master's student in the Big Fish Lab, Josh is investigating the physiology and behavior of sharks as they relate to predator-prey dynamics. As large predatory fish, sharks have few natural predators and therefore are typically not thought of as prey. However, predators of sharks do exist including killer whales and other sharks. Josh uses biologging methods, hormone analyses, as well as machine learning to better understand how sharks respond to their predators where they exist. His goal is to use his results to better understand the interactions among co-occurring marine top predators and their ecological consequences.
Fun facts:
Josh's enthusiasm for experimentation is perhaps most prevalent in the kitchen.
Maddie English
Bio
Maddie English graduated from Oregon State University where she majored in environmental science with a concentration in aquatic biology and minored in marine conservation and management. Maddie has always loved sharks but her passion for them was really ignited when she got the chance to scuba dive for the first time in Belize and came face to face with her first ever shark: a nurse shark. Before joining as a masters student, Maddie was an intern in the Big Fish Lab where she worked on a project involving photo ID and growth rate analysis of white sharks off the California coast. 
Research
Maddie is currently studying microplastic consumption and trophic transfer in Salmon Sharks (Lamna ditropis) using a combination of methods, including stomach content analysis and high-resolution microscopy. She aims to quantify the amount of microplastics consumed by these predators on the Oregon Coast and determine whether there is sufficient evidence to suggest that trophic transfer is the predominant method of plastic consumption in these sharks.
Maddie was awarded the 2023 Mamie L. Markham Endowment Award.
Fun Fact
Maddie enjoys reading, hiking, scuba diving, traveling, and taking care of her 130+ houseplants. 
Ethan Personius
Bio
Originally from Hawaii, Ethan grew up swimming in warm tropical waters and became interested in marine sciences at a young age. Ethan completed his undergraduate honors thesis studying the influence of environmental factors on the within-estuary movement of Broadnose Sevengill sharks with the Big Fish Lab. After graduating with his B.S. in Ecology from Evergreen State College, Ethan joined the BFL to pursue a masters degree and continue his research of marine apex predators.
Ethan was Awarded the 2023 ODFW Marine Reserves Graduate Student Scholarship
Research
Ethan is interested in understanding the ecological role of data-deficient marine predators in the region. Ethan's research focuses on the the Soupfin shark (Galeorhinus galeus), a medium sized highly migratory shark species. After capturing and tagging the first Soupfin shark in the Puget Sound, Ethan is taking a closer look at the ecology of this species in Oregon's waters. His project investigates the movement, habitat utilization, population size and foraging ecology of Soupfin sharks using stable isotope diet reconstructions, stomach content analysis, genetic analyses and animal biotelemetry data. This project will offer the first insights
into the foraging behavior and migratory movements of male Soupfin sharks in the North Pacific
Fun Fact
If you can't find Ethan in the lab, check the nearby surf breaks.
Reilly Boyt (she/her)
Bio
Originally from Colorado, Reilly's passion for the marine world was sparked at an early age while visiting the ocean and exploring the tidepools during family vacations. Her deep love for feeding ecology studies grew from her first job at the National Wildlife Research Center in Fort Collins, CO where she dug around in Coyote stomachs for a diet and feeding ecology study. She then attended the Scripps Institution of Oceanography (SIO) from the University of California San Diego where she earned her undergraduate degree in Marine Biology. During her final year at SIO she interned at the NOAA Southwest Fisheries Science Center in San Diego where she assisted in diet studies of various keystone shark and fish species using traditional stomach analysis.
Reilly was awarded the 2023 Ocean Solutions grant.

Research
Reilly is interested in the diet and feeding ecology of top predators and the impact they have on key fisheries and their ecosystems around them. Her research aims to determine the diet and feeding ecology of Salmon sharks (Lamna ditropis) using a variety of biochemical tracers. Her project will assist in the advancement of standard practices used in feeding ecology studies, creating methodology that can be built upon and further developed. Using the novel approach of eDNA and fatty acid analyses her work will supplement current data sets, leading to the much- needed enhancement of current conservation and management practices.

Fun Fact
Reilly is a Paralympian, prior to joining the lab she swam with the Paralympic Swim Team for 10 years and swam at the Rio 2016 Paralympics.
Undergraduate Students
Natalie Donato
Bio
Natalie is a second-year undergraduate student studying marine biology at Oregon State University. She grew up in Folsom, California, and loves it here in Oregon but misses the sunshine back home. She has had a lifelong passion for marine science, which led her to take an URSA (Undergraduate Research, Scholarship and the Arts) position with Big Fish Lab during her first year at OSU. That experience has sparked her interest in the sensory systems of elasmobranchs and how they interpret and respond to changes in their environment. When she's not in class or the lab, Natalie likes to draw, paint, practice martial arts, do wildlife photography, ski, and scuba dive.
Research
Natalie is currently assisting with work investigating how big skates (Beringraja binoculata), longnose skates (Beringraja rhina) and other benthic species respond to electromagnetic fields (EMFs) and geomagnetic fields to understand how anthropogenic EMF sources could potentially affect their behaviors and movement. Natalie hopes to continue pursuing research in areas of sensory biology and ecology throughout her career.
Fun fact
Natalie has a second-degree black belt in taekwondo. 
Deven Guerrero 
Bio
Deven Guerrero is a rising 3rd-year undergraduate student at American River College in Sacramento, California. They are majoring in biology with a goal to continue in marine sciences. Deven was an National Science Foundation REU (Research Experience for Undergraduates) intern for the Big Fish Lab and working alongside graduate students Jess and Josh in studying behavior and ecology of large fish. Their passion from science stems from a 2-year high school biology class with a professor that pushed them to explore challenging topics and conduct their own research experiments. Deven is excited to explore shark research and is continuing their education with the goal of earning a PhD.
Fun Fact
Though Deven loves the ocean and to be in the water, they can't actually swim....yet.
Kiki Kappos
Bio
Kiki is a fourth-year Honors undergraduate majoring in Fisheries, Wildlife, and Conservation Sciences with a minor in Marine Biology. She has been passionate about sharks since before she can remember, which, according to family video, was first apparent in self-composed songs; in recent years, her passion has manifested itself in her shark conservation awareness Instagram account, an overabundance of shark merchandise, and in her academic endeavors. Kiki took her passion from California to OSU, where she's had opportunities to experience different forms of elasmobranch science by volunteering with the BFL. Kiki strives to pursue graduate studies, and is interested in the physiological responses, biological traits, and movement patterns of oceanic fish, with the goal to improve management strategies and mitigate anthropogenic stressors.
Research
Kiki is working to fill the knowledge gap on the distributions of white sharks (Carcharodon carcharias) in Oregon waters. She is using Geographic Information Systems (GIS) mapping technology to generate a predictive model for locating individuals; this involves curating data on their historical occurrences and assessing environmental elements of habitat suitability along the coast. The goal of her project is to enhance various research endeavors with a more substantial foundation of understanding regarding the seasonal distributions of white sharks in the Pacific Northwest.
Fun fact
Kiki is a nationally-ranked player on the Oregon State Women's Lacrosse team – and her teammates call her Sharkbait!
Other:
Braden A. Vigil
Bio
Braden Vigil is a 3rd-year undergraduate student in the Big Fish Lab. He was raised in Southern New Mexico. At Santa Teresa High School, Braden had a close connection with his AP Biology teacher, who ignited a flame of passion for biological research within him. Ruling out interest in terrestrial life at New Mexico State University after 1 year he transferred to Oregon State University to study marine biology. After a year of volunteering in the Big Fish Lab, sharks have become his main topic of interest. In his spare time, he plays Dungeons and Dragons, reads, brews tea, writes, and rarely, lifts.
Fun Fact:
Braden was once mauled by a baby horse.
Research:
Some sharks have been shown to swim in oscillatory movements when moving horizontally throughout their habitat. Currently, this seems to be related to broadening their foraging range and saving them energy. As this phenomenon was explored in negatively buoyant species, it would be interesting to compare these oscillatory movements with neutrally buoyant species, such as the closely related Pacific Sleeper and Greenland sharks. Braden is currently investigating how depth of habitat affects vertical movement between Pacific Sleeper sharks and Greenland sharks.
Other:
Instagram: @nautical_boy_band
Past Lab Members
Chloe K. Hemelstrand
Research
As of January 2022, Chloe has been assisting with Alexandra McInturf's research project on Salmon Shark foraging ecology. She is responsible for performing stomach content analysis alongside fellow undergraduate Charlotte Hussain. 
Bio
Chloe Hemelstrand is a first-year undergraduate student studying Marine Biology at Oregon State University. She grew up in Turner, Oregon, a small town just outside of Salem, with her mother, father, and four younger brothers. Chloe has loved the sea since before she can remember. As a child, she spent hours flipping through her father's collection of fish identification books and exploring tide pools during her family's beach visits. However, it wasn't until she began watching shark documentaries that Chloe discovered her passion for these apex predators. The more she learned about sharks, the more Chloe realized how misunderstood and important these creatures were. Upon graduating, Chloe hopes to obtain her Master's and PhD degrees. Her goal for her future career is to work as a marine scientist studying shark behavior and ecology.
Fun Facts
Chloe loves to surf, sing, dance, and learn new songs on her guitar!
Charlotte Hussain
Bio
Charlotte is excited to be working as an undergraduate intern at the Big Fish Lab. She majors in Fisheries and Wildlife in the College of Agriculture at Oregon State University and is a member of the Honors College. As of January 2022, she has been performing stomach content analysis for Alexandra McInturf's research project on salmon shark foraging ecology. Charlotte hopes to continue pursuing research careers related to marine megafauna.
Jordon Mercer
Bio
Jordon is a rising junior undergraduate, studying Biology at the College of William & Mary in Williamsburg, VA. She hopes to do graduate work in Animal Behavior and do marine science outreach to children in her career.
Research
Jordon was an REU (Research Experience for Undergraduates) Intern at Hatfield over the summer of 2022. Her current project is on determining hunting strategies for white and tiger sharks via tag footage.
Fun Fact
Jordon loves running, dancing, and baking.
Captain
Captain is a Maine Coone mix from Orlando, FL who loves laying around the house and waiting to be fed. He was given to Jess as a 21st birthday present by her sister back when he was a tiny kitten. Now, he is a fluffy, friendly, cuddly 22 pound cat who LOVES treats, having his belly rubbed, and staring longingly out windows, and HATES the diet he is on.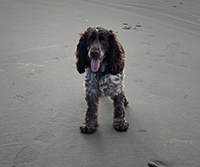 Mako
Mako Maximus McInturf is a 4-year-old Russian spaniel originally adopted from Sacramento, California. He enjoys sleeping in the car or on the couch while Alex is at work. Other hobbies include running, playing on the beach, eating peanut butter, playing with his lacrosse ball, and hoarding toys.
Rey
Rey (affectionately named by her STARWARS-crazed 5 and 7 yr old people) is a black lab/blue heeler mix. Rey is one of the most patient dogs ever known and spends equal parts of her time chasing children and running away from them. And, while she'll chase a ball down at a full sprint, she rarely brings it back.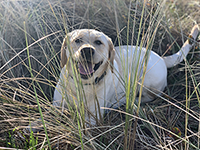 Peanut
Peanut Butter, or Peanut for short, is a 2-year-old yellow English lab named after peanut M&Ms. Her passions include taking long walks on the beach, chasing her ball, cuddling, and of course, food (its hard to say which order those come in).
Pica
Pica is an 11-year-old jack russell/chihuahua mix that was adopted by Braden's family, along with Pica's sister, Pepa. Though her sister has unfortunately passed, Pica found a warm family with a great grandmother who spoils her with eggs, treats, and pets ad libitum. Her legends include her once fighting a tribe of marauder squirrels – and living.
Mr. Kiwi
Kiwi is a nine-year-old kitty from Sacramento,CA. In his spare time, he loves car rides, hunting moths and sipping on oat milk. Kiwi can always be found napping near his humans or trying to steal some food. Due to allergies, Kiwi has an extensive closet of only t-shirts he finds comfortable to keep him safe and fashionable.
Zirk
Zirk is a goofy 5-year old Irish Water Spaniel who when not making silly faces, enjoys swimming
about in rivers and jumping off things that are just a little bit too tall. Her hobbies include eating
plants she's not supposed to, licking stranger's knee caps, belly pats, hikes, and complaining
about not hiking enough.
MOTO
Moto is a 5-year-old African fire skink that Natalie adopted when he was a very tiny baby. His favorite activities include chasing and eating insects, napping under his basking light, and burrowing in the dirt of his enclosure.